Conduent to Offer U.S. Federal Reserve's FedNow℠ Service for Instant Payments
NewsHero-FedNow-PR
FLORHAM PARK, N.J., July 20, 2023 -- Conduent Incorporated (Nasdaq: CNDT), a global technology-led business solutions and services company, today announced it is expanding its digital payment solutions by offering the U.S. Federal Reserve's FedNow Service for instant payments. FedNow Service, the agency's first new payment platform in nearly 50 years, significantly expands access to instant, safe and secure transactions with financial institutions and their customers in the United States.
As part of the FedNow Service launch on July 19, Conduent completed successful payment transactions and payment requests with multiple clients, including a tolling authority, two state agencies and a global telecommunications company.

Serving as a technical integrator for digital payments, Conduent is the only Business Process Solutions (BPS) provider to participate in the FedNow Service launch, and it is the first BPS to offer access to FedNow Service to its clients through Conduent's Integrated Payments Hub .
Financial institutions of all sizes, including regional and small banks, as well as the businesses and agencies and the millions of consumers served by financial institutions will now have more flexibility and more access to safe, secure, irrevocable immediate payments.
"Congratulations to the Federal Reserve on the successful launch of FedNow Service, an important milestone for our country's broader financial system. By offering the benefits of FedNow Service, Conduent is proud to help expand access to accelerated, secure payments, regardless of banking relationships," said Cliff Skelton, President and Chief Executive Officer, Conduent. "Adding FedNow Service to our capabilities is another example of how Conduent drives digital transformation and empowers today's digital economy where speed, convenience and security are paramount."
By offering new instant payment capabilities, Conduent can help businesses across a range of industries and government agencies eliminate paper, reduce costs, improve security and bolster customer satisfaction while providing immediate payment options to their end-users. For example, transportation authorities can offer motorists instant payments to satisfy tolling and parking fees. Refunds and rebates can be sent to consumers avoiding check costs. Government agencies can mitigate fraud with account ownership authentication expediting the validation process for benefits.
Through strategic relationships with BNY Mellon announced in late 2022, Conduent provides seamless access to global, instant payment capabilities via a single platform . Conduent enables a wide range of electronic payment options catering to diverse sectors, including but not limited to government, insurance, automotive, tolling and transit.
About Conduent
Conduent delivers digital business solutions and services spanning the commercial, government and transportation spectrum — creating exceptional outcomes for its clients and the millions of people who count on them. The company leverages cloud computing, artificial intelligence, machine learning, automation and advanced analytics to deliver mission-critical services. Through a dedicated global team of approximately 60,000 associates, process expertise and advanced technologies, Conduent solutions and services digitally transform its clients' operations to enhance customer experiences, improve performance, increase efficiencies and reduce costs. Conduent adds momentum to its clients' missions in many ways, including delivering 43% of nutrition assistance payments in the U.S., enabling 1.3 billion customer service interactions annually, empowering millions of employees through HR services every year and processing nearly 12 million tolling transactions every day. Learn more at www.conduent.com .
About the FedNow Service
The Federal Reserve Banks are developing the FedNow Service to facilitate nationwide reach of instant payment services by financial institutions — regardless of size or geographic location — around the clock, every day of the year. Through financial institutions participating in the FedNow Service, businesses and individuals will be able to send and receive instant payments at any time of day, and recipients will have full access to funds immediately, giving them greater flexibility to manage their money and make time-sensitive payments. Access will be provided through the Federal Reserve's FedLine ® network, which serves more than 10,000 financial institutions directly or through their agents. For more information, visit FedNowExplorer.org.
"FedNow" is a service mark of the Federal Reserve Banks. A list of marks related to financial services products that are offered to financial institutions by the Federal Reserve Banks is available at FRBservices.org.
Note: To receive RSS news feeds, visit www.news.conduent.com . For open commentary, industry perspectives and views, visit http://twitter.com/Conduent , http://www.linkedin.com/company/conduent or http://www.facebook.com/Conduent .
Trademarks
Conduent is a trademark of Conduent Incorporated in the United States and/or other countries. Other names may be trademarks of their respective owners.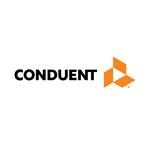 ---